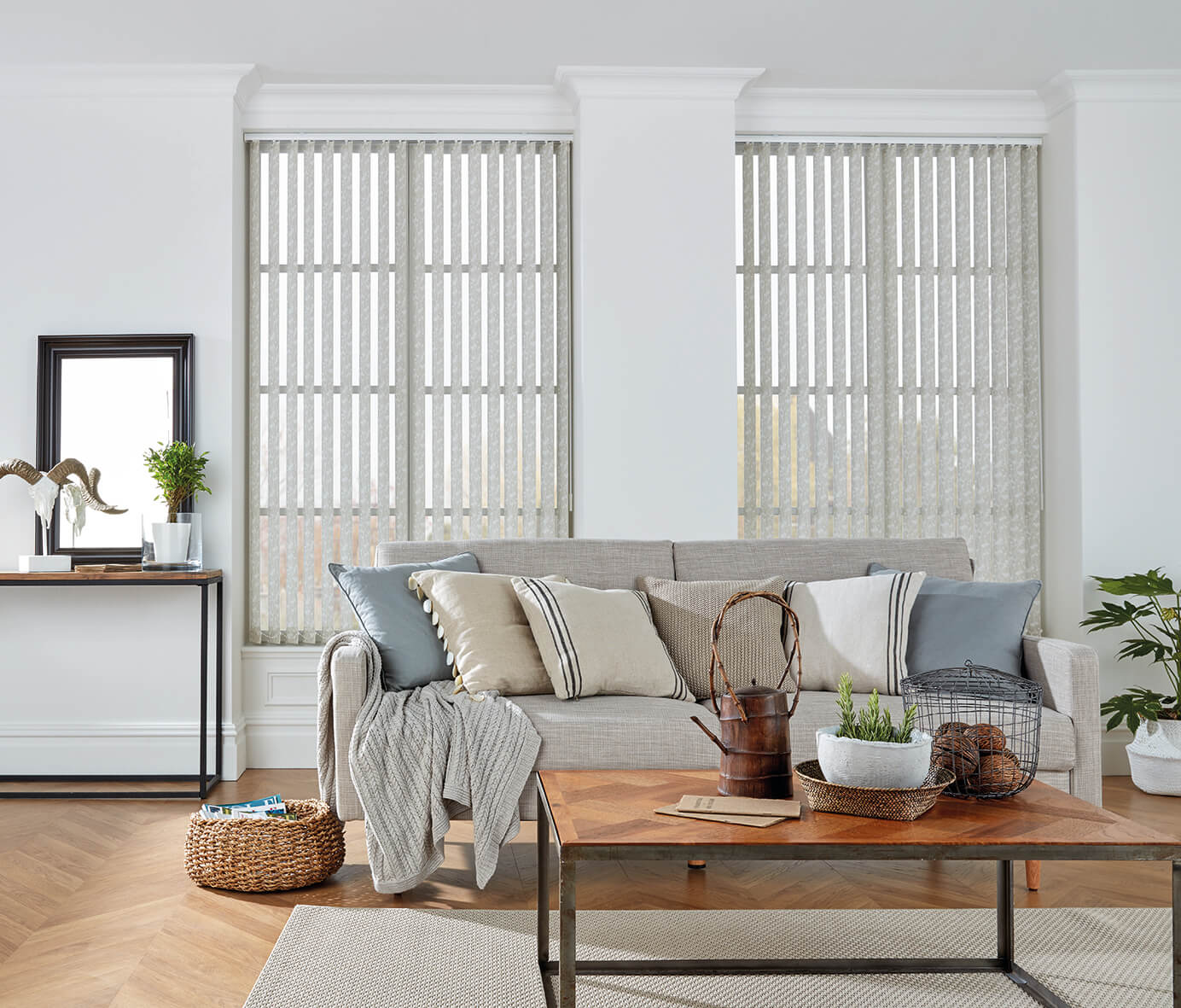 With A1 Blinds, installing magnificent vertical blinds is easy for your home in Morpeth and throughout the North East. Vertical blinds are a classic style, but they still work well for modern homes and commercial spaces as well. At A1, we offer our vertical blinds with several fabrics and colours to choose from, and our designs are customisable. As a result, you'll get made-to-measure vertical blinds for your Morpeth home.
Vertical blinds operate on a top rail, meaning you can pull the whole design across your window or door. However, the blinds are made from several vertical slats which you can adjust individually for precise lighting control. Your new blinds will provide full coverage of the aperture of your windows and doors as well. Because of this, you can go from blackout to fully open and everywhere in between.
By choosing A1 Blinds, you can get vertical blinds that are made for your Morpeth home. All of our blinds can be bespoke to your home, and you can design them with a range of options. At A1, we can also help by carrying out precise measurements and providing virtual consultations to help you see which blinds are perfect for you. Contact us today to find out more about installing vertical blinds in Morpeth!
Benefits of Vertical Blinds
Beloved Style
Vertical blinds are still one of the most popular designs in Morpeth and the UK. It's because these blinds have a timeless design, with a sleek and stylish look that's suited to a range of window and door applications. An elegant design makes these blinds feel understated, but you can design them to draw attention as well. With this versatility, vertical blinds will always look perfect for your Morpeth home.
Customisable Design
With A1, you don't have to settle for vertical blinds that don't suit your Morpeth home. Instead, you can make our blinds your own with our range of customisable options. We put all of our options at your fingertips, such as our range of durable, hard-wearing fabrics and stylish colour options. Our blinds don't fold or crease for decades, either, meaning the design you choose will last.
Flexible Control
By installing vertical blinds, you can light your Morpeth home as you want to. Our blinds are adjustable in precise ways, meaning you'll always be able to get the right lighting for your living space. You could either pull the whole blind system across to achieve a blackout effect, improving privacy and reducing glare, or tilt each slat to get a more precise look and feel for your home.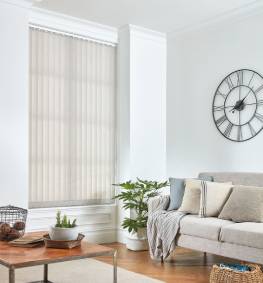 Uses for Vertical Blinds
One of the benefits of vertical blinds is how versatile they are for homes in Morpeth. For example, you can choose these blinds for large glazed areas, including sliding or bifold doors. Our blinds are always made-to-measure and can come in larger sizes, meaning you can still fully cover the largest apertures. Not only that, you'll be able to make your home more comfortable in the process.
Another way vertical blinds can help you inside your Morpeth home is with your privacy. If you have large windows or doors, then you could feel like prying eyes are watching you inside your living space. However, our vertical blinds can close fully, meaning you can get privacy inside your home when you want to. It's why our vertical blinds are perfect for home offices and bathrooms!
Finally, our vertical blinds don't only have to be additions to windows and doors in your Morpeth home. With our range of customisable options, you can create a design that stands out in its own right. Our vertical blinds can come with colours that complement your living space, and they work well for conservatories or extensions. As a result, our vertical blinds are fully bespoke for your Morpeth home.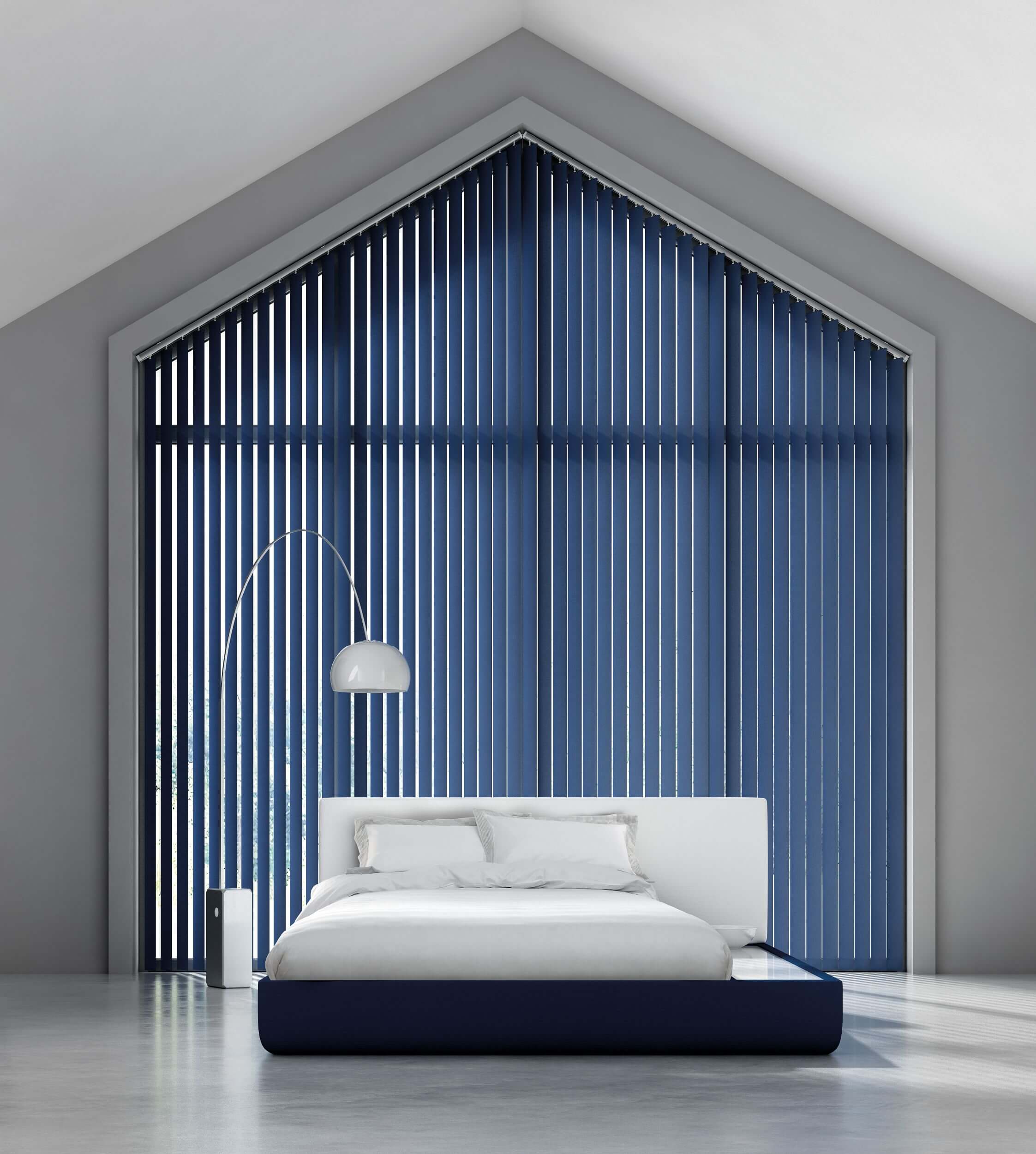 Vertical Blinds from A1 in Morpeth
At A1 Blinds, we're proud to help homeowners install high-quality vertical blinds in Morpeth and the surrounding North East areas. We're a local installer, meaning we can get to your home more quickly and offer more competitive prices for your new installation. With years of experience, we know what to do for any job. Not only that, our wide range will cover any of your needs.
You can start the process of installing vertical blinds today by getting a free home or virtual consultation. From there, we'll measure up your windows or doors to make sure you get made-to-measure vertical blinds for your Morpeth home. We make all of our blinds locally in the North East, too, working with expert craftspeople. You'll feel the quality of our blinds straight away.
And, once the blinds are ready, we'll take care of the installation. Our friendly fitting team will manage your project fully, making sure that you can get your new vertical blinds in Morpeth without stress or hassle. And, by installing locally, we offer more competitive prices and shorter wait times than national installers. If you want perfect vertical blinds in Morpeth, A1 is the company to choose.
Vertical Blinds Prices Morpeth
If you're interested in installing vertical blinds for your Morpeth home, choose A1 for a wide range of stylish designs at competitive prices.
You can book a virtual consultation today or get a free home consultation in Morpeth! Not only that, you can fill in our online contact form or call 0800 193 0417 to request a callback from our friendly team.