Terms & Conditions
CHILD SAFETY Disclaimer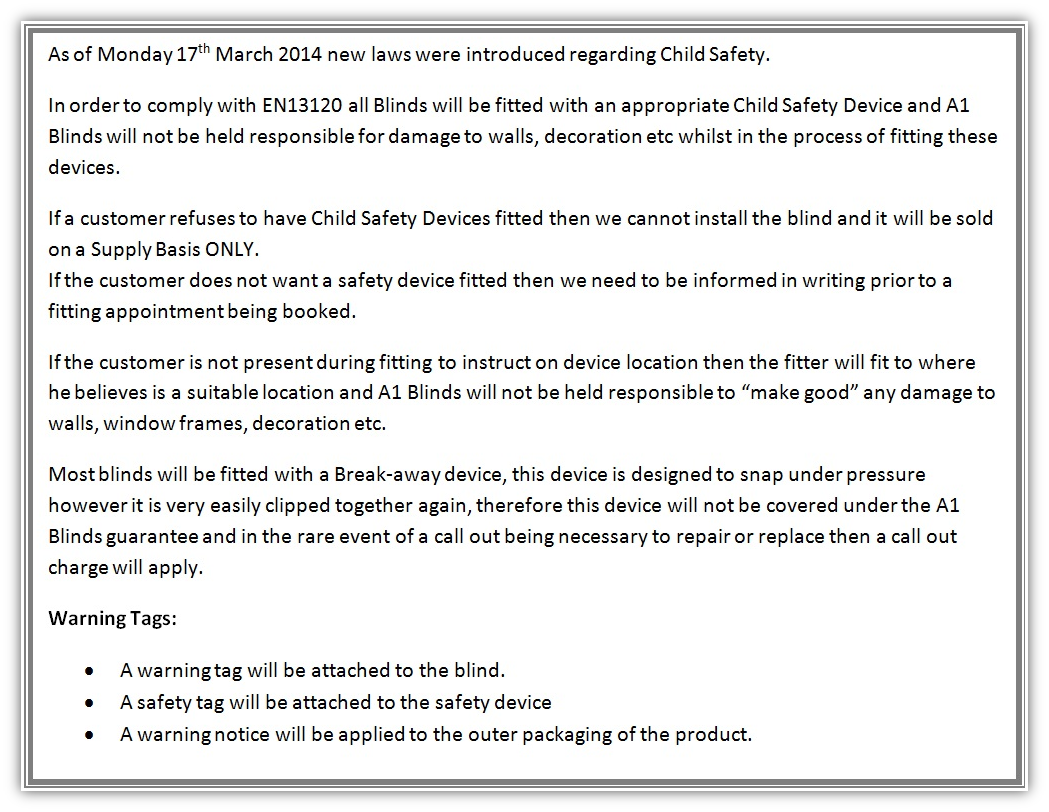 CHILD SAFETY Terms & Conditions
This clause is extremely important and your attention is specifically drawn to the same
i.] If the Contract includes installation, you may not cancel or terminate the Contract if, for any reason, you should decide that you will not allow us to Install any safety device that accompanies the Goods which means that, as a result, we cannot Install the Goods at all (as detailed in clause [ii. ] below). In such circumstances, you will still be liable to pay us the full Price due under the Contract (but this will not affect your legal rights as a consumer in relation to any Goods that are faulty or not as described).
Safety Devices
ii.] We have to comply with the Regulations. The Regulations have been introduced to help to prevent accidental death by way of strangulation to young children caused by them becoming entangled in blind cords. We take our obligations under the Regulations extremely seriously. These provide that safety devices supplied with Goods must be fitted by us at the time of Installation otherwise we may be negligent and perhaps be in breach of the Regulations. Therefore, if the Goods contain any safety device, we will fit this device and ensure that we have complied with the Regulations. In the event that you should instruct us that you do not wish to have such a safety device fitted, then we will refuse to Install the Goods. In such an instance, you will be liable to pay us the Price under the Contract.
iii. ] You agree that you will not treat our refusal to Install the Goods for the reasons set out in clause [ii. ] above as a fundamental or any breach of the Contract and that you will still be bound under the Contract to take delivery of the Goods.
iv. ] For the avoidance of doubt we consider clauses [ii. ] and [iii. ] to be reasonable in all the circumstances given our obligations under the Regulations. This will not affect your legal rights as a consumer in relation to any Goods that are faulty or not as described.
v. ] The default option, unless specified or stipulated otherwise will be for Wand operation on all Vertical Blinds.
---
In these terms:-
"Goods" means the blinds, window furnishings or other products manufactured or supplied by A1 Blinds and the subject of the order made by You "You" and "Your" means the person ordering Goods from "A1 Blinds" or "We" or "Us" or "Our" means Easyfit Blinds Limited trading as A1 Blinds whose registered office is at Unit 4-5 Tundry Way, Chainbridge Ind Est, Blaydon, Tyne & Wear NE21 5SJ.
1. OUR CONTRACT
Our site invites You to buy Goods from Us. A legally binding contract with You will only arise once A1 Blinds have received payment for the Goods in full from You and has notified You of acceptance of Your order by e-mail to the e-mail address given by You in the order form.
2. PRICE
2.1 The price for any Goods ordered by You will be the price given to you from the quotation system within our site or from one of our sales team and confirmed in the confirmation page generated after you place your order and to the e-mail address supplied by you and will include all taxes applicable from time to time. As per our quotation system, You are required to choose the size band(s) that correctly correspond to the exact width and/or drop measurements that you have entered. Failure to select the correct size band(s) will result in an incorrect price being displayed and subsequently charged for should you continue with the checkout procedure. A1 Blinds cannot take any responsibility for You failing to make such a selection. We therefore reserve the right to cancel or amend the price to the correct charge for your order and request further payment before the manufacture of such goods can take place. Should you wish to cancel your order upon notification that such an amendment is required it will be subject to our refund policy, please see point 3.1.
2.2 In addition to the price a delivery charge may be payable in respect of deliveries made to locations within the UK mainland other than orders for sample swatches of fabric alone. The delivery charge will be that shown on the confirmation page and e-mail sent to You. If there is any change in the delivery charge payable We will notify You before Your order is accepted by Us and ask You to confirm that You wish to proceed with Your order.
2.3 Subject to clause 4 - we will debit the price, plus any delivery charge, from Your debit or credit card on receiving your order or as soon as is reasonably practicable thereafter.
2.4 £10 off vouchers :
2.4.1 Only one voucher can be redeemed per order placed, usually on subsequent orders or passed on to a friend;
2.4.2 Voucher must be presented at the time/point of placing an order - and not upon completion of works/upon-fitting.
3. RIGHT FOR YOU TO CANCEL YOUR ORDER
3.1 You cannot change or cancel Your order if the Goods You have ordered are manufactured, measured or custom-made to Your requirements or specifications as these Goods will not be re-saleable by Us. We regret that once Your order has been accepted by Us in relation to such Goods and entered on Our manufacturing process We are unable to accept any changes to these Goods or cancellation of Your order. If prior to delivery You do wish to change Your order or cancel it after We have accepted it, and it has not already been entered on Our manufacturing system, please contact Us as soon as possible by e-mail or on Our telephone order help-line as described above and We will try to assist You. Our acceptance of cancellation of Your order if it has not already been put into production will be subject to retention by Us of a handling charge equal to 30% of the price paid for these custom-made Goods. The balance of the price paid will be reimbursed to You within 30 days of notification of cancellation by issuing & posting out a cheque.
4. CANCELLATION BY US
4.1 We reserve the right to cancel the Contract or decline your Order if:
4.1.1 we have insufficient stock of the fabric or product required to manufacture and/or supply the Goods you have ordered;
or
4.1.2 any of the Goods in your order was listed at an incorrect price due to a typographical error, mistake by a sales representative/employee or an error in the pricing information made by us and/or received by us from our suppliers
4.2 Before cancelling your Order we will do our best to source and offer you suitable alternative Goods of a similar style and quality, but you are not obliged to accept them
4.3 If we do cancel your Order we will notify you as soon as possible and will credit to you any payment already made to us relating to your Order - by cheque. Although we appreciate that you may be disappointed in such circumstances we will not be able to offer you any compensation for disappointment you may suffer.
5. STOCK STORAGES
If the Goods or the fabric You order are unavailable A1 Blinds will notify You as soon as possible and suggest a suitable replacement.
6. PRODUCT DESCRIPTIONS AND MEASUREMENT
6.1 The product information and photographs contained within Our web-site are provided for illustrative purposes only and We cannot warrant that they are accurate. If You are in any doubt as to the precise nature of the product or fabric You wish to order, You are advised to order a free sample of the product.
6.2 Whilst we take great care to represent colours and textures accurately on our web site, computer monitor displays vary greatly. If you require an exact colour match please use our FREE SAMPLING service to ensure the fabric you have selected meets your colour requirements. Please be aware, where you require multiple items in the same fabric please place your order for all items at the same time as fabric dye batches can vary slightly in accordance with the fabric manufacturers published terms. If you have any doubt regarding colour variations please don't hesitate to e-mail (info@a1blindsuk.co.uk) or call us (on 0191 4990099).
6.3 As the Goods which You order are manufactured according to the measurements You provide in Your order it is very important that Your measurements are accurate. We cannot accept the return of the Goods by reason of the measurements provided being incorrect. You are advised to read the How to Measure and Fit pages of Our web-site or call Our enquiry line on 0191 4990099 or contact Us by e-mail on info@a1blindsuk.co.uk if You would like guidance on how to take the required measurements accurately.
6.4 Made to measure products are custom made to your precise requirements, once made, our products are suitable only to you, and therefore cannot be cancelled or returned. Because of this it is extremely important that you are sure about the product that you want and also the size you require. We strongly advise that you take advantage of our free sample service before placing an order - A1 Blinds cannot be held responsible if you dislike the colour or the general quality of the product. We strongly recommend that you double check your order to ensure that the products ordered and measurements taken are correct. This does not affect your statutory rights.
6.5 People using Our fit-your-own service (supply only), by signing Our form, you agree that the; blind type; size; colour; fabric & measurement type (recess/blind-size/etc.) are all correct and as outlined.
Please check Your order details as corrections cannot be made after production. As standard industry practice, all measurements will be taken as width first - then drop, unless stated otherwise, in writing, by the customer.
6.6 Whilst every attempt will be made by A1 Blinds to ensure that the Goods sold and delivered match in every respect any sample or description shown or given or sent to You, any minor or immaterial variation or change in colour or pattern between the sample or description and the goods delivered shall not entitle You to reject the Goods nor to claim any compensation for such variation or change. Please keep in mind that minor dye lot variations in materials are unavoidable and can never be guaranteed, due to this we also recommend that any orders containing the same colour are placed at the same time. Please also note that all of our fabrics are woven during their manufacturing process and therefore they may contain a natural slub in the weave of the fabric and this is in no way considered a fault with the fabric.
6.7 We have taken reasonable precautions to try to ensure that prices quoted are correct and that all products have been fairly described. However, when ordering products or services, please note that orders will only be accepted if there are no material errors in the description of the goods or services or their prices.
6.8 All products manufactured by A1 Blinds are produced in line with British blind industry guidelines, with regards to operational applied forces, safety legislations both British & European as well as with aesthetic & ergonomic aspects of the finished product when determining optimum & safe operating cord lengths; internal built in safety systems & devices; in addition to suitable clearances left between window sills & blind bottom bars/louvres.
6.9 Blinds, please note that even though the products are cut with high precision machines there is a tolerance of 5-8mm. We will not replace the order if the sizes are within this tolerance limit and you will not be entitled to reject the goods.
6.10 Drapes, when buying individual louvres/drapes/slats for Vertical Blinds please note that they come with top hangers & do not include weights & chains (although can be provided if requested & charged for).
6.11 Please note, stripe fabrics cannot be guaranteed to match across all panels or blinds. Pattern match or pattern consistency is not guaranteed with this product at any time.
6.12 When an order is placed for a Roller Blind using a striped fabric, the direction that the stripes run may be specified at the time of placing an order. During the order process there is a 'Notes' field which may be utilised for this reason, letting us know of any preference. This is found prior to the payment stages.
6.13 Due to the advent of Child Safety laws coming into force - the default option, unless specified or stipulated otherwise will be for Wand operation on all Vertical Blinds. Traditional Cord controls can be chosen instead, yet these must be attached to an adjacent wall using a tensioning safety device such as a 'P-clip'. Please see our child safety page for further information.
6.14 Wooden Venetian Blinds, punch holes are not stained and ends will only be stained if requested by the customer prior to order.
6.15 Vision Blinds, we only offer a front roll operation.
6.16 Roman Blinds, when pulled up, will have a stack of over 300mm please bear this in mind specifically on short drop windows.
i] Although we can produce roman blinds up to 3000mm wide, we would strongly recommend that window sizes over 2000mm should be made as two separate blinds for ease of operation and appearance.
ii] We cannot guarantee that the shade colour of the finished blinds will be an exact match to any sampling or samples. There is always a possibility in variation of shades between different consignments of stock.
iii] There are two available finishes for manufacturing Roman Blinds, which are visible when the blind is fully drawn up. This must be specified at the time of placing an order. These options are either 'Cascading' or 'Stacked' - whereby each folded section of fabric either sits atop of the next in an equal stack, or in a flowing/cascading stepped manner.
6.17 Pleated Blinds, please be aware that 'fanning', 'fishtailing' & 'stacking' is inherent to the nature of angled pleated / perfect fit roof blinds.
6.18 Blinds, that are manufactured using fabrics with a PVC Coated; PVC backed fabric; or pure PVC fabrics will deliver a superior room darkening effect than thinner, non-coated fabrics. There will however inherently be gaps around the outside edges of Roller blinds & between each drape of a Vertical blind so inevitably light shall be present to some degree. It can be highlighted that a fabric itself may be 100% blackout - however the overall effect of the blind will not stop 100% of light transmission. If 100% blackout is required an alternative product may be required such as a cassette roller which provides 99% blackout coverage.
7. DELIVERING YOUR GOODS
7.1 A1 Blinds will deliver Your goods to the address You have provided on the order form for delivery as soon as possible after Your order is acknowledged by you and in any event within 30 days of the day after Your order was placed unless a later date is agreed with You. We will advise You of the estimated delivery date when We accept Your order. We normally aim to deliver Goods within approx 5 working days of acceptance of Your Order. The date notified to You will be an estimate only and We give no warranty that We will be able to deliver on that date.
7.2 Ownership of, and risk in, the Goods will pass to You once they have been delivered to You. If You return the Goods under clause 7, ownership of, and risk in the Goods returned will pass to Us on receipt of them by Us.
7.3 All goods leave our premises in perfect condition. Once the goods have been accepted by the Courier into their possession in order to fulfil their contractual obligation to delivery them to You, We are no longer responsible, and therefore accept no liability, for the condition in which the goods are delivered to and accepted by You should they become damaged during transit. We do however ensure that there is a suitable level of insurance taken out against damage for each consignment but it is the responsibility of You to notify Us of any damage in order that we can instigate any insurance claim with the Courier within 24 hours of delivery.
7.4 Your goods are despatched to you via a National Courier, upon arrival you are required to open and inspect the goods for signs of damage, if there is any damage to the goods, you MUST sign the drivers delivery slip "GOODS DAMAGED" and inform us immediately of the damage concerned. If you do not have the time to inspect the goods then the slip must be signed "PACKAGING MARKED, GOODS UNINSPECTED". Failure to follow these instructions may result in the blind or blinds not being replaced.
7.5 If you do find the packaging or goods damaged you MUST inform us immediately by phone on 0191 4990099 if possible or email (info@a1blindsuk.co.uk). Any loss or damage MUST be reported to us within 24 hours of delivery.
7.6 Once we have notified You that Your order is ready to be dispatched and the delivery date has been agreed between Us and You, it is Your responsibility to ensure that You are able to take delivery of Your Goods. The designated Courier will attempt to deliver Your Goods twice before returning them to Us. Should your Goods be returned to Us due to You not being available to take delivery of Your Goods on the agreed delivery date, You will be responsible for paying any further delivery costs in order to re-dispatch Your Goods to You.
7.7 We will ensure that the appropriate delivery service is notified to the Courier. e.g. overnight next day. However, we accept no responsibility for the timing of your delivery if the courier company fail to deliver Your goods within the specified time frame of the service for which we have paid.
7.8 If customers do not have their blinds fitted & we have to hold them in storage, we shall do so for up to 12 months. If we have to store them for longer than a twelve month period, we must be notified of this in writing by the customer & there will be a storage charge applicable. As these goods have no resale value - if we have not been informed to store for longer than a 12 month period, then the goods will be disposed of.
8. INSTALLATION
8.1 If your Order includes Installation we have to make certain assumptions when we quote you a Price. These are that:
8.1.1 access to immediately outside your property is unobstructed to a small van with free parking available;
8.1.2 the area around where the Goods are to fitted is unobstructed and of standard construction with no cables or pipes under the surface in the relevant area;
8.1.3 the walls or wood into which we need to attach hanging apparatus are in a condition that allows us to easily obtain good fixings for the tracks, poles and battens;
8.1.4 you have removed all ornaments, appliances and other objects in the immediate working area; and
8.1.5 none of the areas or items into which we are Installing the Goods have any warranties or guarantees that will be invalidated by the Installation.
8.2 If these assumptions are not met in your circumstances, or if you have reason to doubt that they are, (for example if you live in a very old property, there are hidden pipes conduits or cables or if you have parking or access problems), you must let us know at the point of Order. If you do not we may need to make an additional charge if additional time, costs or materials are required to complete the Installation for you as a result of these assumptions not being met which will be added to the Price, and any warranties you may have on third party products may be invalidated.
8.3 For the avoidance of doubt we will not be responsible for carrying out any building work, for moving any furniture to clear access to the immediate working area, or for the invalidation of any warranties you did not tell us about in writing.
8.4 It is usually necessary to drill holes in order to fit blinds, this includes the installation of child safety devices. When you agree to the installation of your new blinds, your agreement is also implicit for us to carry out any necessary actions with view of completing works agreed, for example but not limited to; drill holes to fit the blinds and the required child safety device.
9. DEFECTIVE GOODS
9.1 A1 Blinds warrants that all Goods sold to You will be free from defects in material and workmanship for a period of 12 months from delivery of the goods to You.
9.2 If Your Goods are defective on delivery or a defect arises within the following 12 months, You are entitled to return them to Us provided You have first contacted Us through the order help-line or e-mail address shown on Our web-site, or in writing at the address set out above, giving Us details of the defects, but only if We have agreed that the Goods should be returned to Us. If it appears that the Goods are defective We will promptly arrange for a courier to collect the defective Goods from You and:-
9.2.1 either replace or repair the Goods and return the repaired or replaced goods to You, free of charge; or
9.2.2 if the Goods are defective on delivery, and You so request, arrange for a full refund of the price and delivery charge of the defective Goods by crediting Your debit or credit card (online sales only) within 30 days of receipt of the defective Goods.
Provided that the Goods have not been modified or subject to mis-use or negligence. Please contact Us on Our order help-line or by e-mail as described above for guidance on how to pack Your Goods to return them.
9.3 No liability under clause 7.2 shall arise unless the price and the delivery charge has been paid in full on or before delivery.
9.4 If the Goods are not defective, or are returned to Us after the of 12 months from delivery of the Goods, or they have been modified, misused or the subject of negligence, You will be responsible for the payment of Our charges on a time and materials basis in respect of any repairs and collection and return of the Goods which We agree to carry out at Your request. We shall be entitled to debit such charge on the debit or credit card which You used to order the Goods provided We notify You of the amount of such charges before carrying out the repair.
9.5 Except where You are a consumer, A1 Blinds will not be liable for any indirect or consequential loss or damage or loss of profits arising out of Our supply or failure to supply the Goods to You.
9.6 The rights You have in paragraphs 7.1 and 7.2 above do not in any way seek to limit A1 Blinds liability for death or personal injury resulting from A1 Blinds negligence and they do not limit any statutory rights You have as a consumer.
9.7 Except where You are acting as a consumer all other warranties, conditions and terms relating to fitness for purpose, satisfactory quality or conditions of the Goods whether implied by statute or common law or otherwise are excluded to fullest extent of the law.
10. REFUNDS
Refunds on duplicate payments (Where the customer clicks refresh on the final payment screen or clicks the 'checkout' button more than once) will be refunded minus 5% to cover our credit card processing costs.
If a refund is to be given, this will be done in form of a cheque within 30 days of a decision being made, unless otherwise agreed between issuer and recipient.
11. USE OF CARDS
By placing an order You authorise A1 Blinds at its discretion to carry out a credit reference or other enquiry upon Your financial status as A1 Blinds thinks fit and You agree to provide such written authorisations which may be required for the purposes of such enquiry. In the absence of such authorisation We will be unable to process Your order.
12. REPRESENTATIONS
No statement, description, or recommendation contained in any catalogue, price list, advertisement, communication, the pages of this web-site or by any employee or agent of A1 Blinds shall be interpreted so as to enlarge, vary or override in any way any of these terms and conditions.
These terms also govern any Submissions you make on any A1 Blinds related third party website or page such as our Facebook page, Twitter, Pinterest, YouTube or social networking site. All comments, images, videos and any other type of material posted on any third party social networking site do not necessarily reflect the opinions or ideas of A1 Blinds or its employees and A1 Blinds is not responsible for any such content. In any event, all material posted on any third party social networking site must comply with our terms and the third party social networking sites' Terms of Use, as applicable.
13. EVENTS BEYOND OUR CONTROL
We shall have no liability to You for any failure to deliver Goods You have ordered or for any delay in doing so or for any change of the specified delivery date or for any damage or defect to Goods delivered that is caused by any event or circumstance beyond Our reasonable control including, without limitation, third party default, strikes, lock-outs and other industrial disputes, breakdown of systems or network access, flood, fire, explosion or accident.
14. INVALIDITY
If any part of these terms and conditions is unenforceable (including any provision in which We exclude our liability to You) the enforceability of any other part of these conditions will not be affected.
These exclusions shall be governed by and construed in accordance with English law. If any provision of these disclaimers and exclusions shall be unlawful, void or for any reason unenforceable then that provision shall be deemed severable and shall not affect the validity and enforceability of the remaining provisions.
Nothing in these Website Terms shall exclude or limit our liability for personal injury or death caused by our negligence. In addition, these Website Terms shall not limit or exclude any other liability that we are not permitted to limit or exclude under applicable law.
We reserve the right to change and update these Terms from time to time and recommend that you revisit this page regularly to keep informed of the current Terms and Conditions that apply to your use of the Website and our Services. By continuing to access, browse and use this Website, you will be deemed to have agreed to any changes or updates to our Website Terms.
15. PRIVACY POLICY
We, Easyfit Blinds Limited trading as A1 Blinds, are committed to protecting and respecting your privacy, and to complying fully with the new General Data Protection Regulations ("GDPR") which are effective from 25th May 2018.
This policy (together with our terms of use) sets out the basis on which any personal data we collect from you, or that you provide to us, will be processed by us. Please read the following carefully to understand our views and practices regarding your personal data and how we will treat it, as well as your rights under GDPR.
For the purpose of GDPR, the data controller is Easyfit Blinds Limited, Unit 4/5 Tundry Way
Blaydon-On-Tyne, Tyne and Wear, NE21 5SJ. ICO registration number: ZA234545.
Information We May Collect From You
We may collect and process the following data about you:
Information that you provide by filling in forms on either of our websites www.a1blinds.co.uk or www.a1blindscommercial.co.uk (our sites). We may also ask you for information when you register for offers, enter a competition or promotion and when you report a problem with our site. If you contact us, we may keep a record of that correspondence.
We may also ask you to complete surveys that we use for research purposes, although you do not have to respond to them.
Details of transactions you carry out through our site and of the fulfilment of your orders.
Details of your visits to our site including, but not limited to, traffic data, location data, weblogs and other communication data, whether this is required for our own billing purposes or otherwise and the resources that you access.
Basically: When you shop, contact or visit us any information that you provide will be collected and processed by us.
IP Addresses and Cookies
We may collect information about your computer, including where available your IP address, operating system and browser type, for system administration and to report aggregate information. This is statistical data about our users browsing actions and patterns, and does not identify any individual.
For the same reason, we may obtain information about your general internet usage by using a cookie file which is stored on the hard drive of your computer. Cookies contain information that is transferred to your computer's hard drive. They help us to improve our site and to deliver a better and more personalised service. They enable us:
To store information about your preferences, and so allow us to customise our site according to your individual interests.
To speed up your searches.
To recognise you when you return to our site.
To estimate our audience size and usage pattern.
You may refuse to accept cookies by activating the setting on your browser which allows you to refuse the setting of cookies. However, if you select this setting you may be unable to access certain parts of our site. Unless you have adjusted your browser setting so that it will refuse cookies, our system will issue cookies when you log on to our site.
Basically: We also collect digital data about you to enable us to understand website usage, speed up searches and provide you with a more personalised service.
Where We Store Your Personal Data
The data that we collect from you may be transferred to, and stored at, a destination outside the European Economic Area ("EEA"). It may also be processed by staff operating outside the EEA who work for us or for one of our suppliers. Such staff maybe engaged in, among other things, the fulfilment of your order, the processing of your payment details and the provision of support services. By submitting your personal data, you consent to this transfer, storing or processing. We will take all steps reasonably necessary to ensure that your data is treated securely and in accordance with this privacy policy.
All information you provide to us is stored on our secure servers. Any payment transactions will be encrypted using SSL technology. Where we have given you (or where you have chosen) a password which enables you to access certain parts of our site, you are responsible for keeping this password confidential. We ask you not to share a password with anyone.
Unfortunately, the transmission of information via the internet is not completely secure. Although we will do our best to protect your personal data, we cannot guarantee the security of your data transmitted to our site; any transmission is at your own risk. Once we have received your information, we will use strict procedures and security features to try to prevent unauthorised access.
Basically: When you submit personal data to us it can be sent to and stored outside the EEA in order to fulfill your request. All this information is securely handled by us, but you are responsible for keeping your passwords safe
Uses Made of the Information
We use your data on the basis of legitimate interest.
We use information held about you in the following ways:
To ensure that content from our site is presented in the most effective manner for you and for your computer.
Where you are a company, to provide you with information, products or services that you request from us or which we feel may interest you.
To allow you to participate in interactive features of our service, when you choose to do so.
To notify you about changes to our service.
We do not sell your data to any third-party organisation. We share limited amounts of your data with third parties to deliver our products and services to you - for example, delivery names and addresses for parcel delivery. Where we permit selected third parties to use your data, they will contact you by electronic means only if it is part of the service they are providing on our behalf or if you have given consent to receive communications about their services.
Basically: We use the information you provide to deliver your purchases and to ensure we give you the best offers and services available and keep you up to date about our company.
Disclosure of Your Information
We may disclose your personal information to any member of our group, which means our subsidiaries, our ultimate holding company and its subsidiaries, as defined in section 1159 of the UK Companies Act 2006. This is because there may be related products provided by a different subsidiary that you may be interested in.
We may disclose your personal information to third parties:
In the event that we sell or buy any business or assets, in which case we may disclose your personal data to the prospective seller or buyer of such business or assets.
If any of our subsidiaries or substantially all of its assets are acquired by a third party, in which case personal data held by it about its customers will be one of the transferred assets.
If we are under a duty to disclose or share your personal data in order to comply with any legal obligation, or in order to enforce or apply our terms of use or terms and conditions of supply and other agreements; or to protect the rights, property, or safety of Edmund Bell, our customers, or others. This includes exchanging information with other companies and organisations for the purposes of fraud protection and credit risk reduction.
Basically: We may disclose your personal information to any member of our subsidiaries, holding company and its subsidiaries, as defined in section 1159 of the UK Companies Act 2006. We may also disclose this information to third parties or if we are legally obliged to do so in accordance with our Terms.
Your Rights
You have the right to ask us not to process your personal data for marketing purposes. We will usually inform you (before collecting your data) if we intend to use your data for such purposes and it is not in a business to business context. You can exercise your right to prevent such processing by checking certain boxes on the forms we use to collect your data. You can also exercise the right at any time by contacting us at Easyfit Blinds Limited, Unit 4/5 Tundry Way, Blaydon-On-Tyne, Tyne and Wear, NE21 5SJ or email info@a1blindsuk.co.uk
Our site may, from time to time, contain links to and from the websites of other businesses. If you follow a link to any of these websites, please note that these websites have their own privacy policies and that we do not accept any responsibility or liability for these policies. Please check these policies before you submit any personal data to these websites.
Basically: We will usually let you know before collecting your data if we intend to use it for any marketing purposes, but you can opt out of your information being used in this way by selecting the relevant box on any forms or by contacting us. We are not responsible or liable for any third-party websites that we link to from our website.
Access to Information
You also have the right to:
Access the information that we process about you and, in certain circumstances, for this to be packaged in machine readable form and sent to you or a third party.
Object to processing that we undertake on the basis of a legitimate interests.
Request that inaccurate records about you are changed.
Be informed when we undertake automated decisions with your personal information.
To exercise any of these rights please contact info@a1blindsuk.co.uk
Basically: We comply with all of your rights under GDPR legislation, including the 'right to be forgotten'.
Changes to Our Privacy Policy
Any changes we may make to our privacy policy in the future will be posted on this page and, where appropriate, notified to you by email.
Contact
Questions, comments and requests regarding this privacy policy are welcomed and should be addressed to Easyfit Blinds Limited, Unit 4/5 Tundry Way, Blaydon-On-Tyne, Tyne and Wear, NE21 5SJ or email info@a1blindsuk.co.uk
16. THIRD PARTY RIGHTS
Except for Our affiliates, directors, employees or representatives, a person who is not a party to this agreement has no right under the UK Contracts (Rights of Third Parties) Act 1999 to enforce any term of this agreement but this does not affect any right or remedy of a third party that exists or is available apart from that Act.
17. GOVERNING LAW
This contract is subject to English law and the exclusive jurisdiction of the English courts.
Home Visit Terms and Conditions
18. FACEBOOK COMPETITION TERMS & CONDITIONS
No purchase is necessary.
This competition is open to all residents in mainland UK over the age of 18, except employees of A1 Blinds, their families, or anyone professionally connected with this promotion, by entering the competition you agree you are above this age. (Ireland, Highlands, Scottish & Channel Isles can apply and although we will cover delivery costs unfortunately Measure & Fitting will not be included as these locations are outside our coverage area).
By entering this competition you agree to abide by these terms & conditions.
A1 Blinds reserves the right, with or without cause, to exclude any Participants in this Competition or withhold the Prizes where there has been any violation of these terms and conditions. Defamorty , abusive or destructive posts will be removed.
A1 Blinds does not accept responsibility for (1) lost, late or undelivered entries or (2) any technical or access issues, failure, malfunction or difficulty that might hinder entry to the Competition, or (3) any event which may cause the Competition to be disrupted or corrupted. The Promoter shall not be liable under or in connection with these Terms and Conditions for any indirect, special, or consequential cost, expenses, loss or damage, even if such cost, expense, loss or damage was reasonably foreseeable or might reasonably have been contemplated by the entrant and the Promoter and whether arising from breach of contract, tort, negligence, breach of statutory duty or otherwise.
The Prize Winner agrees to allow A1 Blinds to publicise their name on their Web/Social Media site.
The prize Winner agrees to confirm their win through a Facebook comment.
Once a winner has been drawn they will be notified through Facebook messaging/announcement or e-mail (depending on the security setting of their Facebook account)
We will take all reasonable steps to notify the winner, however, due to some facebook security settings we might be unable to message the winner, it is therefore your responsibility to check back to our Face Book page to find out if you have won, A1 Blinds accepts no responsibility for loss of prize in the event of a non claim as a re-draw will take place after 7 days.
The prize/voucher must be used within twelve (12) months from the date of the voucher/prize draw.
The prize voucher will be sent to the winner within 5 working days.
The prize cannot be used in conjunction with any other offer / special offers / discounts (online or discretionary) on either our website, in our showrooms or via home consultations. Any pre-discounted items such as clearance stock are also omitted.
The prize is transferable on notification of name & address however no cash equivalent will be offered.
If the Prize Winners location is outside A1 Blinds coverage area then delivery will be arranged but measuring & fitting will not be included.
A1 Blinds reserve the right to withdraw or change the prize or offer at any time without notice.
If the prize is:
A full House of Blinds = represents up to 7 Blinds (of Vertical or Roller Blinds) in selected fabrics/colours not exceeding 1800mm x 1800mm or Venetian Blinds in selected colours not exceeding 1800mm x 1800mm, or any Blinds of your choice not exceeding £349.99 in total value. Roman, Shutters, Canopies & Awnings are excluded from this offer.
3 x Vertical Blinds = 3 vertical blinds in white or cream from selected fabrics not exceeding 1800mm x 1800mm, or the equivalent of that current offer price against any alternative blinds.
A free Blind = Any Roller/Venetian or Vertical Blind in any colour from selected fabrics not exceeding 1800mm x 1800mm, or the equivalent of that current offer price against any alternative blind.
Prize Voucher = can be used against the purchase of any blind excluding Roman, Shutters, Canopies and Awnings.
Show/Concert Tickets = Tickets will be posted to the winner by recorded delivery at least 4 days before the event. All entries must be over the age of 18, under 16's are not allowed in standing areas. A1 blinds will not be responsible for lost tickets, change of date, time or venue or for concerts/shows cancelled by the promoter for whatever reason.
If the prize total exceeds the purchase total a credit balance will remain valid for 12 months from the voucher issue date.
In the event of a dispute the decision of A1 Blinds is final and no correspondence will be entered into. The Promoter reserves the right to amend or withdraw this Competition in whole or in part, temporarily or permanently, without prior notice or compensation.
The Promoter's liability under or in connection with these Terms and Conditions shall be limited to the value of the prizes.
19. 'FULL HOUSE OF BLINDS' OFFER TERMS
The "Full House of Blinds Offer" consists of 7 windows in selected 89m vertical fabric in white or cream.
Each window not exceeding 1800mm x 1800mm in size, an extra £5 per 300m will apply to sizes over 1800m.
The offer can be changed to Roller Blinds at an additional cost of £10 per blind.
This Offer includes free Measure & Fitting within our coverage area.
This Offer does not include metal chain, scallops, cafe bars or any other accessories however, these can be added at an additional cost.
In order to comply with EN13120 Standard, Child Safety Devices will be fitted to all blinds where deemed necessary.
A 50% deposit will be payable before the order can be put into production.
As these are Made-to-Measure goods and in-line with the DSR rule, the order may be cancelled in writing within 7 days of placing the order however, the customer agrees to pay our Reasonable Costs for any work carried out by A1 Blinds up to the point of cancellation.
Any payment (including deposits) made to A1 Blinds is an agreement of our Terms & Conditions.
The ownership of the goods shall remain with A1 Blinds until payment in full for all the goods has been received.
Please be aware that colours may vary slightly from samples shown due to the differences between batches supplied to us.
If the Customer does not state control location or chain/finish options then the standard options will be supplied.
In the event of a Customer cancelling their order prior to production a £20 Cancelation Fee will be deducted from any refund of payment or deposit.
A1 Blinds have up to 31 days to rectify any quality issues or measuring discrepancies from the date of fitting or date of replacement goods if not the original cause of complaint.
A1 Blinds cannot be held responsible for delays beyond our control, such as and not limited to; supplier's non-delivery of goods, traffic congestion affecting delivery times etc. We will endeavour to contact customers as soon as possible with an alternative day or time.
All delivery, fitting or estimates appointments are made in the utmost good faith but do not constitute part of this contract. We are unable to specify times but will do our best to keep to the morning/afternoon time schedules. If appointments cannot be fulfilled we will endeavour to notify the customer at the earliest opportunity.
VAT is charged at the current rate at time of order and is included in the price.
Our Full House of Blinds and Three Verticals multi-buy offers - are only available to those within a 15 mile radius of our head office in Blaydon. Venetians, Romans, Panels, Pleats, Shutters, Curtains, Canopies & Awnings are excluded from these offers.
This offer is exclusively available to DOMESTIC customers only.
20. 'PRICE MATCH GUARANTEE' TERMS & CONDITIONS
In the event that you find a cheaper price for an item that is the same as one of our products in any other current North East window blinds business, we will match the price subject to the below terms.
The Price Match Promise only applies to;
Orders where you notify us of the cheaper competitor price at the time of placing your Order with us;
Competitor prices which are current and made generally available to all customers;
Items sold within the UK by North East-based companies;
Items which are not subject to any special promotional or discounted offers including without limitation using coupons, vouchers, member's discounts or trade discounts;
Items which are in stock and available on the same terms, where the invoice is paid in full and including any warranty;
The item itself and not to delivery or any other services.
Proof of price must be provided including current published price list, catalogue page or such other proof as we reasonably require. We reserve the right to verify any prices with the vendor.
Our Price Match Promise cannot be used in conjunction with any other promotion, discount or offer. Items sold as part of a multi-deal are matched to their individual price.