How To Measure
You will need a good tape measure (metal tapes are best)
Pen and paper
When measuring, you can use inches or centimetres. Measure to the nearest sixteenth of an inch if you're using inches or to the nearest millimetre if you're using centimetres
Decide where you want your blind, inside of the window or outside the window.(see diagrams)
First measure the width by measuring from the left to the right
Write down your measurement
Then measure your length, this is from the top to the bottom. (The length can also be called the drop) also write this measurement down.
Always write down the Width first, then the drop.
Look out for protruding handles to ensure the Blind can hang freely.
We recommend you measure in several places to allow for any slight size variation – then note the smallest measurement.
Our Machines deduct the correct measurements needed, so there is no need for you to make any adjustments.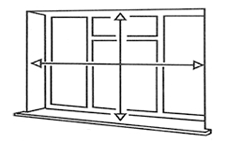 On the inside of your window is called Recess Size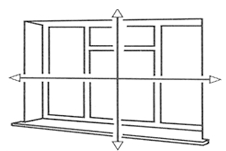 On the outside of your window is called Exact Size
How To Fit
Click on the PDF links below for instructions on how to fit your made-to-measure blinds
Breakaway Chain Connector
A breakaway chain connector is fitted to all Roller blinds that we manufacture. It is designed & rigorously tested to come apart under 6kg of pressure. It will remain attached to one loose end of the chain if it does break apart. If the control chain is pulled through & out of the blind, follow these instructions to replace the chain.