What are the best blinds for patio doors? Well, depending on what you are looking for, the key to finding the right blinds for patio doors is ensuring that they work synchronously with your patio doors. This means that when you open, close and use your patio doors, you want you blinds to complement to room and door opening without them getting in the way.
What Should I Consider When Choosing Blinds for Patio Doors?
There are a few different blind styles that are very well suited to patio doors, but what is most important is considering a few important questions before making a decision.
The first is to consider how frequently you use your patio doors. Are you needing them for regular access or are they more for light control? This will help you make a decision on which blinds are best for your patio doors.
The second is what it is you are hoping to achieve with your blinds. Are you looking to control privacy? Heat loss? Are you wanting to control the way light enters your home a little better? These are all important considerations when it comes to choosing your blinds.
Best Blinds for Patio Doors for Easy Access
If you are looking for blinds for your patio doors that you frequently need to use, then we would suggest Perfect Fit blinds. Here at A1 Blinds, our incredible Perfect Fit blinds are tailor made to each door profile and are super easy to fit. They sit flush within the door frame which means that when you need to use the patio doors, there is no need to open and close the blinds for access, making their use very convenient.
Not only are they perfect for doors, but our Perfect Fit blinds can be tailor-made for windows too, meaning that if you are looking for blinds for the whole room, you can create matching Perfect Fit blinds which go on your patio doors and your windows.
Perfect Fit blinds are available in four different types. Aluminium Venetian, wooden Venetian, Pleated and Roller blinds. This means that you are not limited to choosing just one style just out of convenience. A huge range of different materials and colours and well allows you to really choose the most suit blind style and shape for your home.
Best Blinds for Patio Doors for Temperature Control
If you find that your main goal with your patio doors blinds is temperature control rather than easy access, there are some great options. While patio doors are great for opening up the home and filling your space with lots of light, often, they can be a key area where heat is lost. Poorly insulated patio doors can
Perfect Fits are still a great option here, but we would recommend choosing the Roller blind style over Venetian or vertical as this particular style is made up of unbroken fabric that will allow less cold air through openings that Venetian and vertical styles have. Roller blinds are also made of fabric and opting for thicker material can provide higher levels of insulation for your patio doors. The way that Perfect Fit sits flush in your door profile means that the minimum amount of cold air will be let in when compared to other styles.

Best Blinds for Patio Doors for Privacy
If your patio doors are overlooking an outdoor space that can be viewed by neighbours or passers-by, you may be looking for the best blinds to add privacy to your space without compromising on practicality and natural light.
Vertical blinds are a practical option for controlling your view inside and outside. They are an all round great option for controlling light, being practical and adding privacy. Vertical blinds gently diffuse light which helps maintain a comfortable balance of light and privacy indoors. They are very easy to maintain and operate and can be easily opened and closed to enter and exit through your patio doors.
Here at A1 Blinds, we offer a huge range of different vertical blinds in an array of fresh fabrics to suit any home. If you are looking for the most balanced and stylish blinds for your patio doors, we can help you find the ideal option for your room and even provide matching blinds for your windows and other spaces in the house.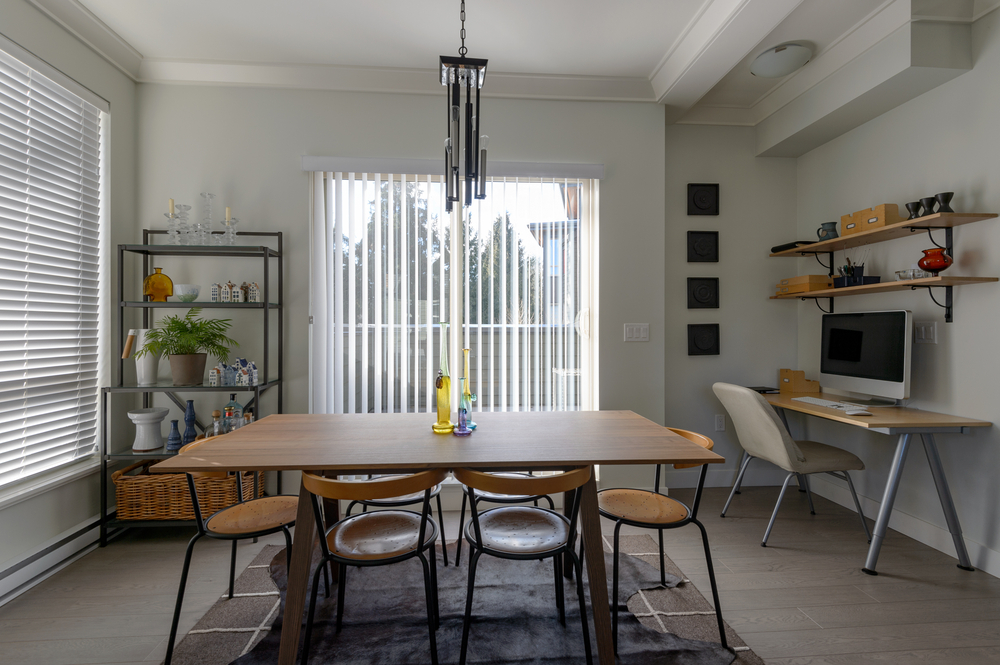 Blinds for Patio Doors
Get in touch with the team at A1 Blinds today to find your ideal patio door blinds. We offer free home consultations for customers in the North East. Our experts can come to your home and evaluate your space and advise the best patio door covering based on your preferences. Contact us today or arrange a consultation.