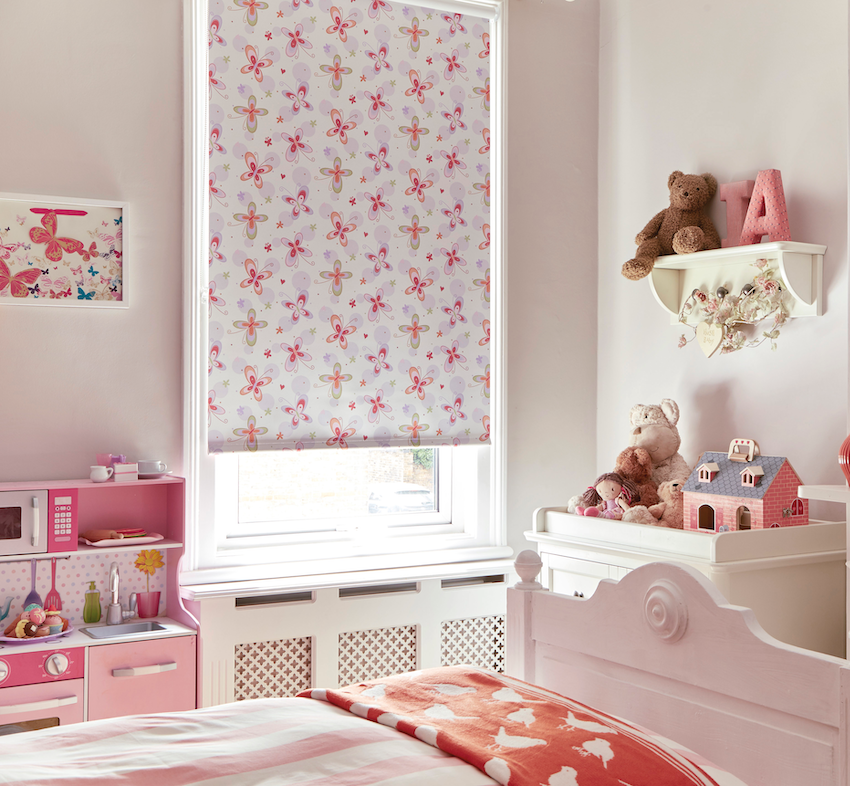 Are you looking for new children's bedroom blinds?
Your children's bedroom is a great opportunity to get creative with colours and prints. It's important to make a fun and comfortable space that they will enjoy! But when it comes to picking your children's bedroom blinds, there's more to consider than just how they will look. Think sleep, safety and style.
In this blog, we'll run through our latest collections of children's bedroom blinds, including the most popular designs, blackout and child-safe options.
Colourful children's bedroom blinds
The colour choice for your children's bedroom blinds will depend upon their age! Pastel colours for your newborn will create a nursery that feels calm and restful… For you and the baby. You could go blue for a boy and pink for a girl or keep it neutral for that minimal look.
Younger toddlers are learning their primary colours, and so bright and cheery schemes are what it's all about! Reds, yellows and blues will make an exciting space for them to grow up in.
As they grow up they might want to be more involved in choosing their own bedroom accessories. We have a range that will keep you and the children happy, including colour block blinds, pale pinks and more.
At A1 Blinds we have a range of blinds in every colour and shade – helping you to match your children's bedroom blinds with the rest of their bedroom perfectly.
All of our blind styles are available with a choice of colour, including roller blinds, Roman blinds, vertical blinds and more.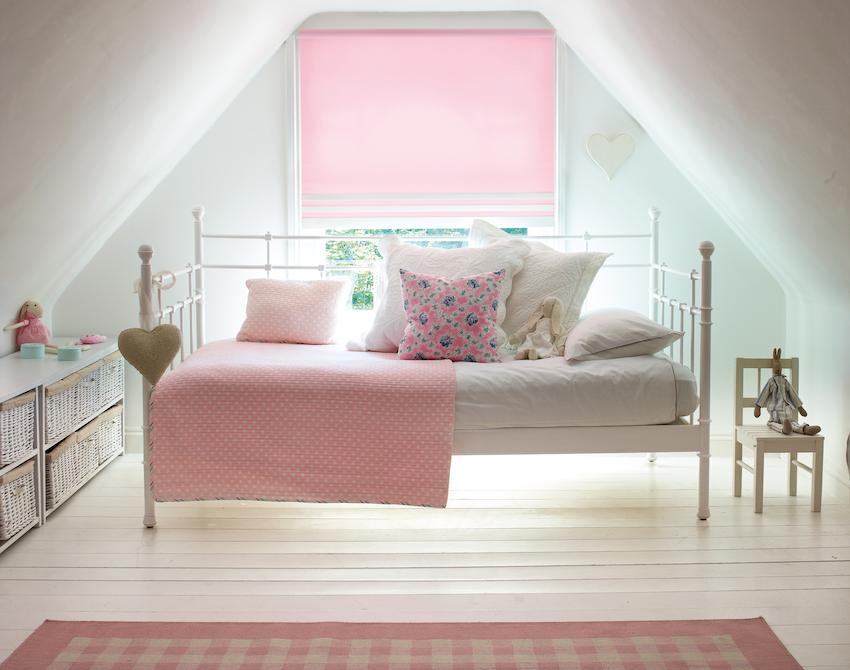 Patterned children's bedroom blinds
Understandably our themed children's bedroom blinds are the most popular amongst the kids!
We have many patterned fabrics that are perfect for your children's bedroom blinds. From spots and stripes through to florals, cars, and rainbows – there's a style to suit every personality.
Our themed blinds are perfect for the 'character-crazed' little ones. We have options including Disney, Marvel, and Star Wars that work great for tying together a children's bedroom theme.

The perfect style for children's bedroom blinds
Our collection has over 15 different blinds styles to choose from, however the most popular for children's bedrooms are roller blinds and Roman blinds. Probably because they're available in patterned and blackout options!
One of our best-selling styles, roller blinds are a simplistic but effective solution. Perfect for children's bedroom blinds, the single-piece fabric shows off the design beautifully.
Our Roman blinds are an elegant window dressing option. They offer a soft visual to your windows whilst adding more of your chosen colours or patterns to your room in a folded fabric blind.
For those of you with a Velux window in your children's bedrooms, we also have several patterned and themed Velux window blinds. This range includes Disney's Cars, Winnie The Pooh, cloud prints and more.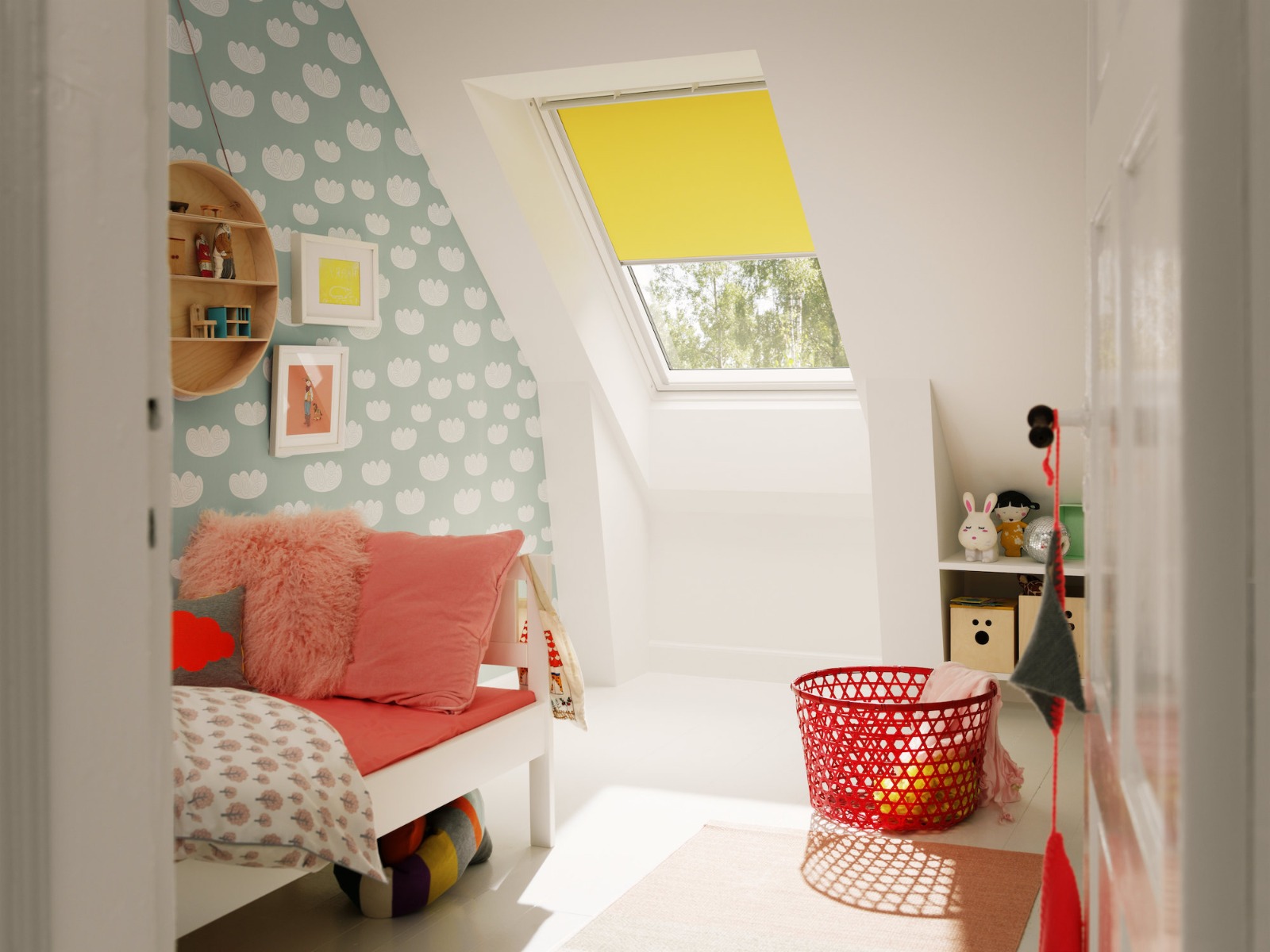 Blackout children's bedroom blinds
So we've talked about style but now for the important part. Sleep.
Babies, toddlers, and children need up to 12 hours of sleep per night, plus naps during the day. This can certainly be difficult when the sun is beaming through the windows!
Blackout window blinds are ideal for reducing light levels in a bedroom and creating a restful area for your children. Not only that, but they're also perfect for keeping rooms cool by reducing their sunlight levels.
Blackout fabrics, therefore, produce the perfect children's bedroom blinds.
Many of our roller blinds, Roman blinds, pleated blinds, vertical blinds, panel blinds, vision blinds, and Velux blinds are available with a blackout fabric.
Also if you like the sound of blackouts for your own bedroom, we have an entire range of blackout window binds to suit your style too.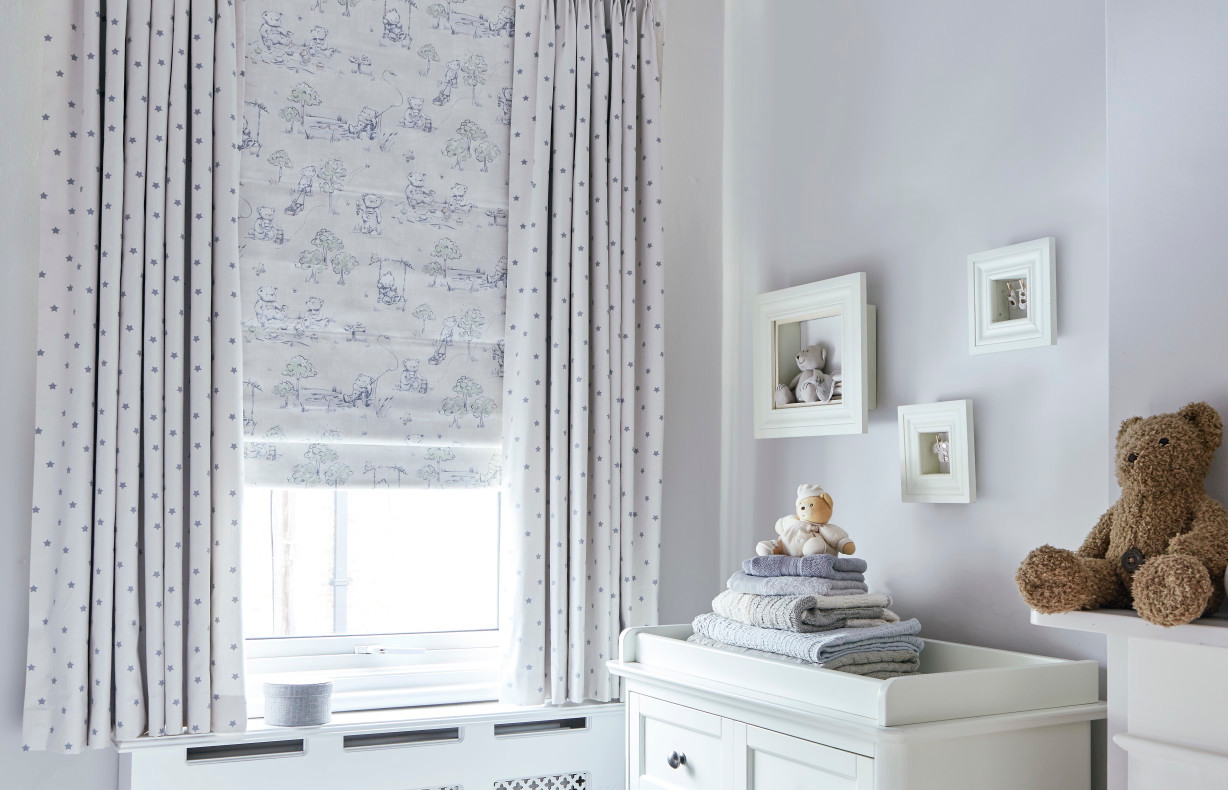 Child safe blinds
Of course, your children's bedroom blinds need to look the part, but safety always comes first. And in fact, all blinds within the home, not just in children's bedrooms, should comply with Child Safety Regulations.
Upon ordering your blinds, you can talk with the team and they will provide you with all the additional child safety options and guidance when it comes to your blinds. Our fitters will also install all of the safety accessories you need on the day of your fitting.
So when you buy from A1 Blinds, not only will you have beautiful blinds, but you can rest assured that all of our products comply with Child Safety Laws.

Anti-microbial children's bedroom blinds
Anti-microbial window blinds have been widely requested within commercial and healthcare settings for a long time. However, they do also have a place within the home.
The anti-microbial treatment that is applied to blinds offers proven protection from microbial attack by controlling the growth of unwanted microbes. But not only this, and what makes it perfect for children's bedroom blinds, is that it prevents stains that are caused by bacteria and fungi.
Therefore, you'll have blinds that are fresher and cleaner for longer.
You can browse lots of our range of children's bedroom blinds here on our website, or to see our collection in full, visit our North East showrooms in Forest Hall or Blaydon.